First, I would like to say that Jure is very warm person and his actions are always pointed from his heart. I got the full package report for me and all my family. The astro report has given me insight into my life and the life of my family from different perspective. I now see my life more clearly and understand my spouse and my children better in various circumstances.
The best part is that I can look into report whenever I want and find answers that I'm looking for. Result is more peaceful and hearted family life. I love my karmic insight report best. I finally got some answers for question why my path is sometimes very difficult and how to handle particular problem or situation. My eyes are seeing more colourful life because astro reports gave me more positive view towards my life and life of my family.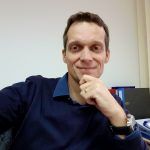 Janez Batič
(Litija, Slovenia)
Pranic Healer and Intuitive soul coach
JanezBatic.com
.